Frequently Asked Questions
Co-Founder, The Upledger Institute (now Upledger Institute International)
Medical Director (Retired), Upledger Clinical Services
1975-1983 clinical researcher and Professor of Biomechanics at Michigan State University
Certified Fellow of the American Academy of Osteopathy
Academic Fellow of the British Society of Osteopathy
Doctor of Science, Medicina Alternativa
The Upledger Institute Clinic staff is a diverse group of professionals that includes osteopathic physicians, occupational therapists, massage therapists, acupuncturists, chiropractic physicians and counselors. All practitioners have been carefully selected for their abilities and dedication to the philosophy and ethical principles upheld by The Upledger Institute.
CranioSacral Therapy (CST) is a gentle, hands-on approach that releases tensions deep in the body to relieve pain and dysfunction and improve whole-body health and performance. It was pioneered and developed by osteopathic physician John E. Upledger after years of clinical testing and research at Michigan State University where he served as professor of biomechanics.
Using a gentle, non-invasive touch generally no greater than 5 grams - about the weight of a nickel - practitioners release restrictions in the soft tissues that surround the central nervous system. By complementing the body's natural healing processes, CST is increasingly used as a preventive health measure for its ability to bolster resistance to disease, and it's effective for a wide range of medical problems associated with pain and dysfunction.
SomatoEmotional Release® (SER) is a therapeutic process that uses and expands on the principles of CranioSacral Therapy to help rid the mind and body of the residual effects of trauma. SER1 offers applications designed to enhance results using CST and other complementary therapies.
Assess and mobilize the Avenue of Expression working through more than 10 different body components, including the thoracic inlet, hard palate and hyoglossal tissues.
Locate and release Energy Cysts.
Release suppressed emotions that may be inhibiting complete structural releases.
Refine listening and comprehension skills.
Improve palpation and whole-body evaluation skills.
Few structures have as much influence over the body's ability to function properly as the brain and spinal cord that make up the central nervous system. And few systems have as much impact on the central nervous system as the craniosacral system the membranes and fluid that surround, protect and nourish the brain and spinal cord.
Every day your body endures stresses and strains, and your structures work to compensate for them. Unfortunately, these changes often cause body tissues to tighten and distort the craniosacral system, which can then cause tension to form around the brain and spinal cord. The result is a barrier to the healthy performance of the central nervous system, and potentially every other system it interacts with.
Fortunately, such restrictions can be detected and corrected using simple methods of touch. Generally using about 5 grams of pressure roughly the weight of a nickel the CST practitioner uses his or her hands to evaluate the craniosacral system by gently feeling various locations of the body to test for the ease of motion and rhythm of the cerebrospinal fluid pulsing around the brain and spinal cord. Soft-touch techniques are then used to release restrictions in any tissues influencing the craniosacral system.
By normalizing the environment around the brain and spinal cord and enhancing the body's ability to self-correct, CranioSacral Therapy is able to alleviate a wide variety of dysfunctions, from chronic pain and sports injuries to stroke and neurological impairment.
A typical CranioSacral Therapy session lasts from 45 minutes to an hour, and takes place in a quiet, private setting. As a client you remain fully clothed as you relax on a comfortable, padded massage or treatment table. The practitioner will stand or sit positioned at various points of your head, torso or feet. At times your practitioner may also support your limbs and spine while helping your body release accumulated tension.
What you experience during a CST session is highly individual. Some people say they feel deeply relaxed, while others describe feeling unwinding sensations as the body releases tension. You may even recall circumstances surrounding a past trauma or injury that caused your body stress. While it doesn't occur in every session, this aspect of the process called SomatoEmotional Release is perfectly normal and helps the body reverse dysfunction and restore optimal levels of mobility.
Because each individual response to CST is unique, the number of sessions needed to resolve any particular condition varies widely. While one session may give you the relief you need, your situation may require more therapy before it's completely alleviated. Your therapist can best advise you in this area.
Just as each individual experiences CST sessions differently, the results can be diverse as well. You may leave in such a relaxed state that you feel like sleeping for hours. Or you may leave full of boundless energy. You may feel a decrease in pain or an increase in function immediately after the session, or the effects may develop gradually over the next few days.
Since CST helps the body resume its natural healing processes, it's common for your improvements to continue weeks after the session. You may also experience a reorganization phase as your body releases previously held patterns and adapts to a new state of wellness.
There are few situations in which CST is not recommended. They include any condition in which changes in intracranial pressure are still a concern (ex. non-shunted hydrocephaly, acute aneurysm, recent skull fracture, recent cerebral hemorrhage.
If you have any questions about whether these situations apply to you, seek the advice of your physician before receiving a CST session.
The Upledger Institute Clinic has appointments available from 9:00 am to 5:00 pm Monday through Friday. To schedule an appointment please call 561-622-4706.
Our normal appointments last from 45 to 60 minutes. Some can be 2 to 3 hours if desired. Please be sure to discuss your individual needs when you call for an appointment.
Over the years, CST has become increasingly recognized as an effective treatment for many types of conditions and dysfunctions. Sessions may be reimbursable by your insurance carrier.
Payment is due to the Upledger Institute Clinic at the time services are rendered and you are responsible for any fees regardless of insurance reimbursement.
A superbill, an itemized form used by healthcare providers for reflecting rendered services, may be provided to you. Superbills will be processed once the Upledger Institute Clinic receives a script containing a diagnosis code(s) from referring physician.
Once script and request has been submitted, superbills will be provided within 24 – 48 hours and you may submit the claim to your insurance company.
Please be advised that Medicare will not pay for CST, as it is a Medicare excluded service under most licensure.
Since no two people have the same needs, each person is treated as an individual. The first step is to be evaluated by one of our therapists. Our priority is to listen to and evaluate your body. We also consider your symptoms as you describe them, along with any previous diagnoses. We can then sit down together to discuss the treatment program that best suits you as an individual.
The positive effects of CST can be quite pronounced. The light touch we use can actually induce the spontaneous release of accumulated tensions in any part of the body. This release often allows the healing process to begin. If the source of dysfunction is within the craniosacral system itself, noticeable improvement may be achieved after the first visit.
For those undergoing CST for health maintenance, there may be an overall sensation of simply feeling better after a session. The length of time it takes to know if CST has helped you is all based on your individual needs and particular circumstances.
The process of finding and resolving an individual's core problems so that adaptational energies can be used for more constructive purposes is aided by the extended and concentrated treatment of hands-on therapy for several hours a day, several days in a row, so that the reforming of old adaptational patterns may be countered.

This approach has proven to be successful for many who have been using their energies to adapt and survive rather than grow and thrive. By freeing the central nervous system to perform at its best, CranioSacral Therapy naturally helps to eliminate pain, strengthen resistance to disease, and enhance health and wellbeing.
Offered in individual and group settings.
11211 Prosperity Farms Road, Suite D-223, Palm Beach Gardens, FL 33410.
From I 95, take exit 79A/PGA Blvd, East. From the FL Turnpike, take exit 109/PGA Blvd and head east. Continue east on PGA Blvd to Prosperity Farms Road. Turn right (south) and proceed for 2/10ths of a mile.
The office complex is on the right side. (Look for red tiles on the walls flanking the entry driveway.) The Upledger Institute Clinic is located on the 2nd floor of Bldg. D, on your left as you enter the office complex. An elevator is available for your convenience. Parking is free, easily accessible and located directly in front of the building. Handicap spaces are designated.
Telephone: 561-622-4706
---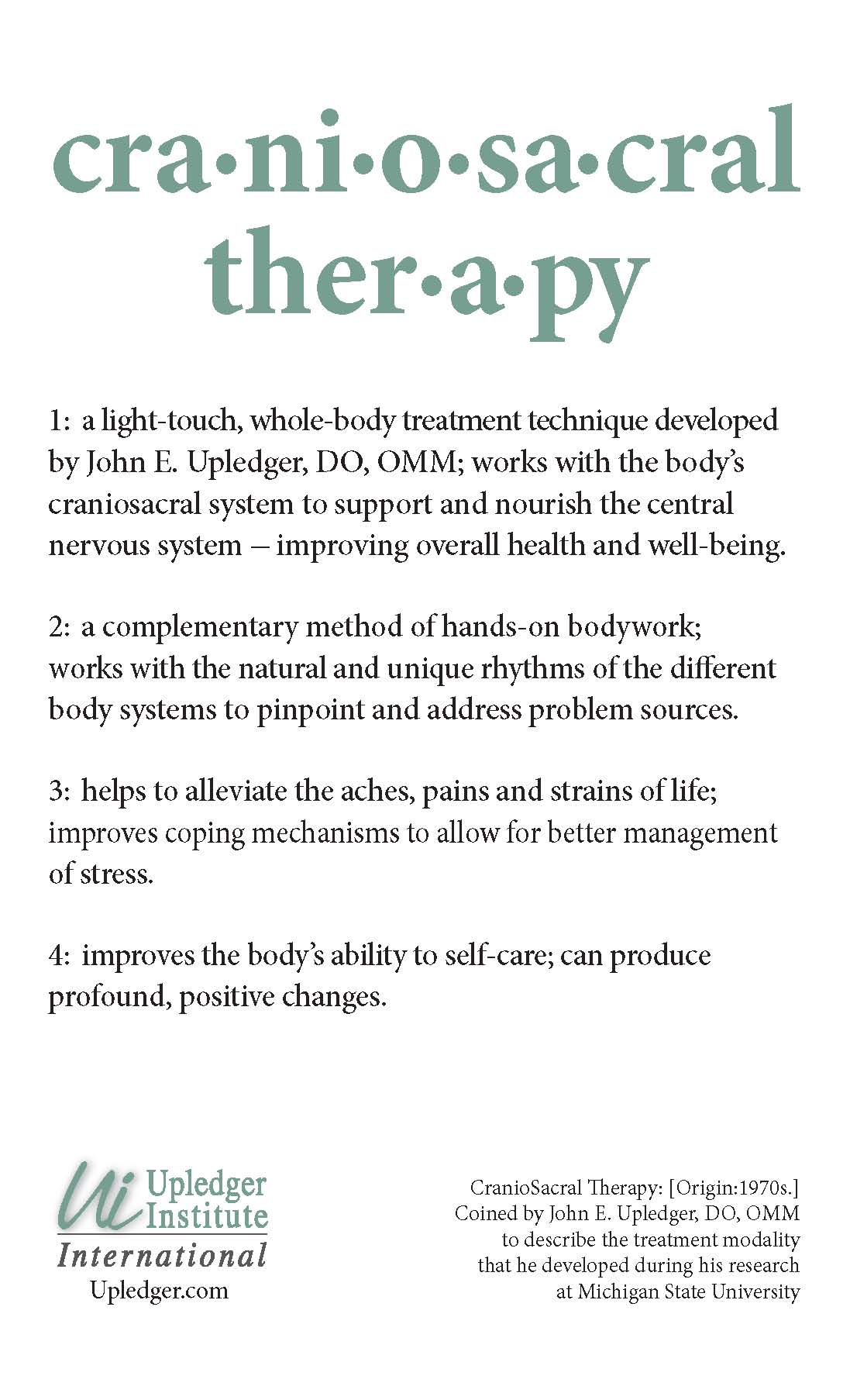 CranioSacral Therapy Definition Poster
Available for free downloading and printing!
Excellent visual for your clinic,
Share in your enewsletters for your clients.
Flyer to pass out.
Share the jpg file on your Facebook page to help spread the word!
---
Take A Tour of Upledger Clinic
The tour is designed to welcome you to our clinic where you will be guided by one of our therapists. You will meet our receptionist, view a treatment room, experience a demonstration of the light touch of CranioSacral Therapy and learn about all the therapies offered at the clinic. You will see the office of Dr. John E. Upledger, the developer of CranioSacral Therapy, the classroom where instruction takes place, and hear about our global connection. The tour lasts approximately one hour.
---
Learn about the Dr. John E. Upledger Foundation programs
The Dr. John E. Upledger Foundation was formed to raise awareness, support and treatment for CranioSacral Therapy and its benefits to those suffering from a wide range of medical problems associated with pain and dysfunction and other conditions including Concussions, Traumatic Brain Injury, Autism and Post-Traumatic Stress. The Foundation's Cancer Therapy Support program provides complimentary CranioSacral Therapy (CST) treatment sessions for cancer patients.